Zinedoms (Issue 4, May 2013)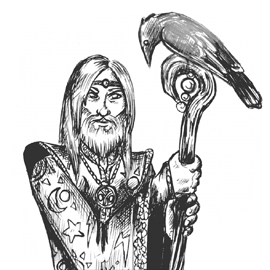 The Longstaff Wizards
Archetypal wizards, Longstaff Wizards are dedicated to furthering their knowledge of the arcane arts and to researching new spells, as well as exploring and expanding upon the properties of existing ones. Found throughout Arrasia, though in Karnish and its empire in particular, this powerful organization controls much of the magic industry through their Longstaff Magic Shops, which help raise the enormous revenue that is required to fund their endless quest for arcane knowledge and powerful magic.
Highly regarded and well respected in some quarters, while held in great suspicion in others, Longstaff Wizards rank amongst the elite of their profession and dedicate their lives both to their art and to the organization as a whole. Only the most capable and committed are initiated into the organization, which will see them become lifelong and loyal servants to the Longstaff Wizard's cause. [
read more...
]
Longstaff Towers

At the heart of the Longstaff Wizards are the towers they inhabit. Sturdy stone structures, they are a potent symbol of the power and prestige of the organization. [
read more...
]
Longstaff Magic Shops
Longstaff Magic Shops have been around almost as long as the Longstaff Wizards themselves, who soon realized that they would need a substantial income in order to generate the astronomical funds required to carry out their research. [
read more...
]

Zinedoms - Issue 4
The fourth issue of the Zinedoms brings you a Longstaff Wizard special! Wizards, arcane magic, towers, and magic shops. Want more? There is! [
read more...
]

What do you want?
We've explored Herophet, Karnish, Badathur, and now brought you the Longstaff Wizards. But what would you like to see from the Zinedoms? [
read more...
]
Gangs of Blackfen (

Parts 2 & 3

)

The second and third parts of our three part series exploring the three criminal gangs who dominate the underworld of Blackfen. Last issue we looked at the Black Bears, a ruthless gang operating in North Blackfen. This time around we bring you the oldest established gang operating in Old Palisade Town, the Weston Gang, and the usurpers tyring to muscle in on their territory, the South Fen Boys and their mysterious and ambitious leader.
[
read more...
]
Blackfen - Religion
Religion plays a central role in the lives of the people of Blackfen and is well represented in the city. There are nine recognized churches in the city and the immense Abbey of Fandor plays a significant role in political affairs. [
read more...
]
Blackfen - Magic

Although ordinary people are largely oblivious to it, arcane magic is present amongst them and has an impact on their lives. The guild also has a significant impact. [
read more...
]